Broccoli's research scientists agree
with ​your grandmother...
...when she told you to eat more of this important vegetable because it's good ​for you.

Interested? Read more about A Reason to Ask for Seconds of Broccoli, written by research scientists at the Linus Pauling Institute who are exploring the role that vitamins and essential minerals (micronutrients) and chemicals from plants (phytochemicals) play in ​human health.

You'll find other pertinent information at the NIH National ​Cancer Institute:
Cruciferous Vegetables & Your Health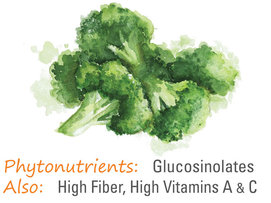 Phytonutrients
Love ​Broccoli Too
Broccoli contains a class of phytonutrients called glucosinolates. When broccoli's glucosinolates are digested, sulphoraphane is produced. Medical researchers are evaluating potential benefits ​of sulphoraphane.

When cruciferous vegetables like broccoli are consumed, they yield compounds "such as sulphoraphane, [which] may help..." prevent some ​health problems.
This is explained in more ​detail in:
"An Evidence-Based Approach to Phytochemicals and Other Dietary Factors", Jane Higdon, Victoria J. Drake; 2nd edition, ​2012; p113.
Listen to ​the experts
The Produce Lady interviews Dr. Alan Brown, at North Carolina State's Plants for Human Health Instiute at the N.C. Research Campus in Kannapolis, to learn about the exciting new developments in broccoli research and discuss how to incorporate broccoli
in ​​healthy dishes.
Check out our
Dehydrated Broccoli
page
for ​additional information.