Learn What Our
Nutrition ​Labels Mean
Abby Gerstein, MA, ​RD, CDN

It may look like just a bunch of numbers, but nutrition panels can provide solid insight into what you're putting into your body. The first thing to know is that the % Daily Values (%DV) are based on a 2,000 calorie diet. Depending upon your personal requirements, you may need more…or less…than 2,000 calories per day, hence more or less than 100% of the Daily Values. The %DVs listed on the panel reflect the serving size listed there. So it's important to note the serving size and how many servings are in the package when calculating your intake for the particular food you are considering. Hungry enough to eat a whole package of something? Then just remember to multiply all of the values by the number of servings for a true idea about ​your intake.

As of January 2021, all manufacturers will be required to display the newly formatted nutrition facts panel on their packaging. All of our labels are already compliant with the ​2021 deadline.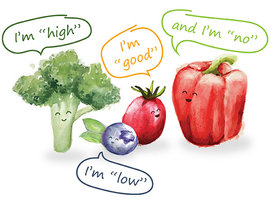 Get to Know...High, Low,
Good ​& No
Our Phyto Active fruits and veggies go by many different names. And sometimes they're ​even ​interchangeable.

HIGH is a name that's earned when a product supplies 20% or more of the Daily Value of a particular vitamin or nutrient ​per serving.

LOW means exactly that, but the numbers change according to the reference. For instance, any food can wear that name tag if it's 40 calories or less, 20 milligrams or less in cholesterol or 2 grams or less in saturated fat, ​per serving.

GOOD, as in good source, is the perfect name for veggies or fruits that provide 10 to 19% of the Daily Value of a particular vitamin or nutrient ​per serving.

NO, in this case, isn't a negative at all. It refers to foods that contain virtually none of those pesky fats or molecules that can ultimately harm our bodies. Again, the numbers vary…such as less than 0.5 mg per serving for sodium or less than 2 mg per serving for cholesterol, to cite just two of the more ​common culprits.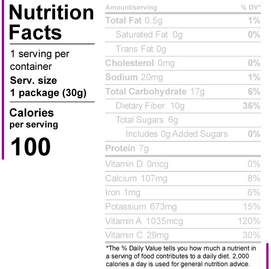 Serving Size Matters
This one can be tricky because many packaged food products contain more than 1 serving per package. Look closely for the package serving size, here noted on the left-hand side of the Nutrition Facts Panel. To find out how many calories and different ingredients you are consuming in an individual package, multiply what's listed by the number of serving sizes. For example, if a package notes 50 calories per serving, and it contains 3 servings per package, you are consuming ​150 calories.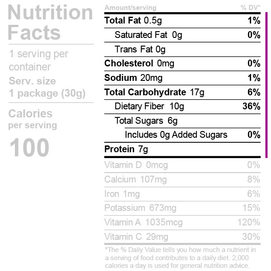 Macronutrients -
The ​Big Picture
The top portion of the nutritional panel features macronutrients, the nutrients that contribute calories (or energy) to our diet. They consist of fats, carbohydrates and protein. The estimated caloric breakdown for each of these macronutrients is as follows: Fats contribute about 9 calories per gram; carbohydrates and proteins each supply roughly 4 calories ​per gram.

Recommended daily intake amounts for these macronutrients vary from person to person. They could range from 45-65% for carbohydrates, 20-35% for fat, and 10-35% for protein. But it's not just the quantity of macronutrients that's important – it's also the quality. Yes, the quality of carbohydrates from fruit or whole grains, for instance, is much better than those in a piece ​of candy.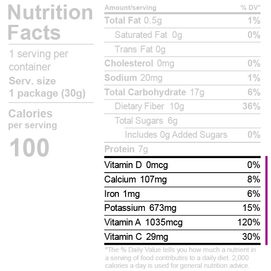 An Up-Close
Look ​at Micronutrients
The bottom portion of the nutrition panel highlights micronutrients, those vitamins and minerals that we need in trace amounts for our bodies to function properly. They do not contribute calories as the macronutrients do, but they carry a lot of weight in the key nutritional roles that ​they play.

The new nutrition panel has eliminated the previously mandatory Vitamins A and C. This was done because deficiencies of these nutrients are now quite rare. They were replaced on the chart by potassium and Vitamin D, though we voluntarily list A and C here, for ​your convenience.
MEET THE AUTHOR OF THIS PAGE – ABBY GERSTEIN, MA, ​RD, CDN

Nutrition expert Abby Gerstein, a valuable source for Phyto Active Foods, provided the information for this page and continues to offer her knowledge on a wide range of nutritional topics. Her ​credentials include:

MA - Master's degree in Food & Nutrition – New ​York University
RD - Registered Dietitian - Commission on Dietetic Registration of the
Academy of Nutrition ​and Dietetics
CDN - Certified Dietitian Nutritionist – New ​York State


PAGE BIBLIOGRAPHY:

Still curious about the nutritional value of what you eat? The new label changes are designed to help consumers better understand it all. You can review a printable summary of FDA's Nutrition Facts Label Changes

You'll find more food for thought in the details about Nutrient Content Claims