Low Sodium Vegan Snacks Prove
Less ​Is More
Enjoy extra crunch and flavor from natural low salt snacks, as only Phyto Active Foods can make them! Available in high fiber vegetables, sodium-free blueberries and more, these nutritious dried snacks fill you up, but never drag you down with artificial additives. Rich in antioxidants and key vitamins, they're perfect for low sodium diets and healthy people on ​the go!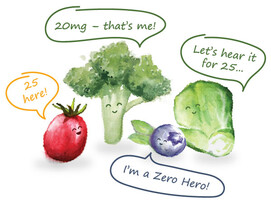 Salt Away Some Tasty
Low ​Sodium Treats
Some of your favorite foods are good for you, too. Phyto Active Foods has turned leafy green vegetables, tomatoes and fruits into great-tasting low sodium vegan snacks! Each crunchy bite gives you more of the healthy, good stuff – and just 25 milligrams or less of the other. Some, like blueberries, have no sodium at all! You can enjoy real fruit and vegetable flavor, with powerful anti-oxidants, fiber and helpful unsaturated fats that some research says can improve blood cholesterol and reduce inflammation. So go low sodium – and snack a ​pack today!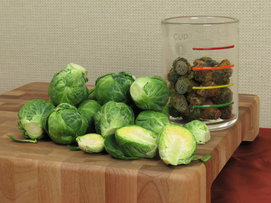 Count 'em Out,
Serve ​'em Up
Phyto Active Foods™ dried Brussels sprouts, one of our many low sodium vegan snacks, are generously packaged with 30 grams of delicious product in every resealable pouch. That adds up to nearly 1 cup of dried sprouts, or 8 full ounces fresh. Though containing just 25mg of sodium, these leafy green vegetable snacks contribute toward many of your daily required dietary nutrients! With balance like that, it's no wonder Brussels couldn't keep them ​a secret.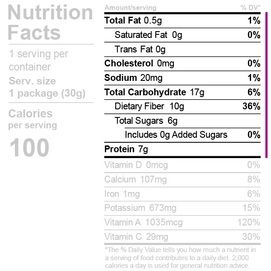 Our Low Sodium
Snacks ​Are Fiber-rific
One of the things that makes Phyto Active Foods low sodium vegan snacks special is that, besides low to no salt content, these crunchy morsels provide generous amounts of fiber and other essential nutrients. The benefits are multi-dimensional, giving you plenty of healthy minerals and vitamins, while satisfying your appetite and even the most finicky ​taste buds.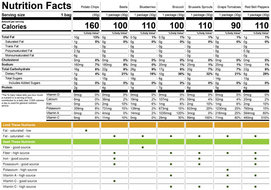 Chart Your Course
for ​Healthy Snacking
When it comes to nutritious eating, Phyto Active Foods vegetarian low salt snacks are off the charts! But the facts are right here on the charts, for everyone to see. These all-natural dried treats, with no extra sugars or other additives, check in with some impressive numbers. Finally, you don't have to choose between nutritious and delicious because now you get them both, all ​in one!

Click Here to download the chart shown at the left, and get a "by the numbers" look at our veggie and fruit ​snack packs.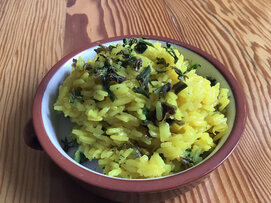 A Special Dish for
Your ​Recipe List
You can even add our nutritious dried, low sodium veggies to healthy, flavorful dinner recipes like this popular broccoli and yellow rice dish. Rich in vitamins C, E and K, it's the perfect taste complement to your favorite protein. Click for the Dried Broccoli Recipe Details.
According to the American Heart Association, eating less sodium could reduce your risk for high blood pressure and help against cardiovascular disease. And "low sodium" can be fun – as proven by crunchy and delicious, dried fruits and vegetables, made the Phyto Active ​Foods way!