Prepare Some Favorite
Dried ​Vegetable Recipes
There are dozens of great dehydrated vegetable recipes designed to grace your dinner table and enliven your palate. Phyto Active Foods dehydrated vegetables and fruits change from healthy snacks to nutritious offerings for every meal course, with these special chefs' suggestions. Join us in reviewing the many delectable dishes you can prepare, from appetizers to entrees and even desserts, using your favorite ​dried foods!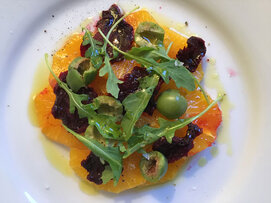 Our Greens Dress
Up ​for Dinner
Need a fresh salad idea with dried veggies? This Orange & Beet Salad is easy to make and quick to please. All it ​requires is:

2 navel oranges
5 large Phyto Active dried ​beet pieces
5 castelvetrano olives, pitted ​and halved
Arugula
Extra virgin ​olive oil
Maldon salt
Fresh ground pepper

This perfect blend of flavors delivers healthy eating with a Mediterranean flair. Click for this Dried Beet Salad Recipe.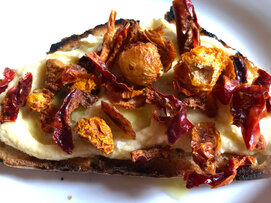 Top Off
Your ​Taste Cravings
Who doesn't enjoy a rich bruschetta, full of savory flavors? Phyto Active Foods dried red bell peppers and grape tomato halves team up for a winning combination worthy of any appetizer tray. The ingredients are simple ​and ​straightforward:

Just make sure you have several slices of your favorite sourdough bread, as well as a flavorful hummus, some extra virgin olive oil, a pinch of Maldon salt – and of course, tasty and nutritious Phyto Active dried red bell peppers and grape tomato halves. Here's the recipe for Dried Tomatoes and Peppers with Hummus.
Pep Up Pastas with
Dried ​Brussels Sprouts
For a pasta dish that tops the charts in flavor and nutrition, add Phyto Active Foods dehydrated Brussels sprouts. Whether mixing with spaghetti, linguine, fettuccini or any other noodle choice, you'll be amazed at how well sprouts complement the different components of your recipe. And with every succulent bite, you'll enjoy powerful measures of beneficial nutrients and antioxidants. Here's all ​you need:

5 oz. of your favorite ​long pasta
2 egg yolks
2 slices bacon
3 tbsp. grated Pecorino Romano ​(or Parmigiano)
Freshly ground ​black pepper
Kosher salt
10 Phyto Active Foods dried ​Brussels sprouts

If you're ready to put this healthy, hearty pasta dish in the queue for good eating, why not have it for dinner tonight! Click for details of this recipe and more Dried Brussels Sprouts Recipes.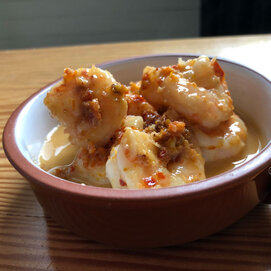 Butter Up
Your ​Taste Buds
Dehydrated grape tomato halves serve as delicious, nutrient-rich companions for a variety of meats and seafood. One recipe that's sure to get the attention of hungry appetites is Tomato Butter with Shrimp. If you haven't tried this rewarding dish, you'll find the ingredients to be remarkably simple. Here's all ​you need:

1 oz. room temperature ​salted butter
1 tbsp. ​olive oil
¼ cup dry Vermouth or dry ​white wine
8 raw, ​peeled shrimp
20 Phyto Active dried grape ​tomato halves

This great dish, served over pasta or grilled bread, can easily become a staple of your healthy cooking regimen. Cooking instructions for this Dried Tomato Recipe.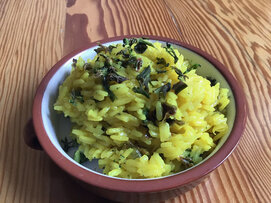 Dried Broccoli Makes
Rice ​Extra Nice
If you thought rice was bland and basic, you just haven't explored the many ways this versatile grain can perk up your palate. We've developed the perfect recipe by adding Phyto Active Foods dehydrated broccoli to the mix – creating a new taste twist and a dish rich in nutrients such as vitamins C, E and K. To get started making Yellow Rice with Phyto Active Foods Dried Broccoli, you ​will need:

1 small ​onion, diced
1 tbsp. ​unsalted butter
½ tsp. dried ​ground turmeric
¼ tsp. dried ​ground cumin
1 tsp. ​kosher salt
1 cup ​jasmine rice
2 cups water
1 tbsp. Phyto Active ​dried broccoli

This tantalizing recipe belongs in every chef's repertoire…especially those who like combining nutritious with delicious. Click for the Dried Broccoli Recipe Details.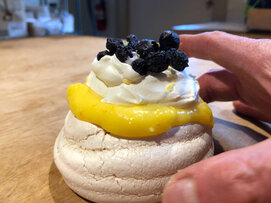 The little things in life are what make it especially sweet. And that's especially true when pairing up Phyto Active Foods dehydrated fruits with other taste pleasers for a delightful dessert like Pavlova with Lemon Curd and Dried Blueberries. Why not get those valuable phytonutrients while you're enjoying a meal-crowning confection? It's easy with ​these ingredients:

6 meringue bases
½ cup strained, freshly squeezed ​lemon juice
Zest of ​two lemons
½ cup granulated ​white sugar
3 oz. unsalted butter, cut into ​small cubes
3 large eggs
Pinch of salt
1 cup ​heavy cream
2 tbsp. ​confectioners sugar
Phyto Active Foods ​dried blueberries

Whip, mix, whisk, cook…enjoy! Click for several Dried Blueberry Recipes.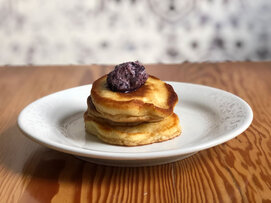 You don't have to be a world-class chef to prepare a flavorful treat, using Phyto Active Foods dried blueberries. Few recipes are quite so simple as the one for Blueberry Butter. All it requires is 1 ounce of room temperature unsalted butter and 20 Phyto Active dried blueberries, to create a memorable topping for warm cornbread or fluffy pancakes. It's quick, easy - and ​almost guilt-free!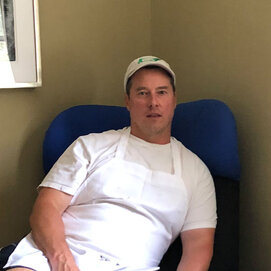 Unique recipes
for ​new foods
Norm Phenix, our recipe developer says: "It's not often that I'm presented with a novel ingredient, so it's been a welcomed opportunity to create these new recipes. All of the dried veggies and berries used here have strong 'bet you can't eat just one' allure as snacks. And each contributes a distinctive flavor burst to its ​related dish."

Norm and his business partner are co-owners of a farm-to-table restaurant and inn in the rural hamlet of Sharon Springs, NY. Norm meets regularly with local farmers, gathering the freshest meats and veggies to serve in his restaurant within hours of sourcing them. Meet Norm, savor a great meal and enjoy a night at the inn: 204 Main Bar and Bistro
Go ahead and experiment with every course...there are dozens of creative ways to make Phyto Active Foods dehydrated fruits and vegetables zing and sing at any table! Watch this page in the coming weeks, for instant links to the full, unabridged ​recipe instructions.