COULD SPROUTS FORM ANOTHER
LINE ​OF PROTECTION...
in the battle against cancer? Researchers have found promising characteristics in sulforaphane, a compound found in cruciferous vegetables like ​Brussels sprouts.

This particular anti-inflammatory agent seems to target multiple cell mechanisms to control carcinogenesis. Learn more about https://www.ncbi.nlm.nih.gov/pmc/articles/PMC5842175/ here.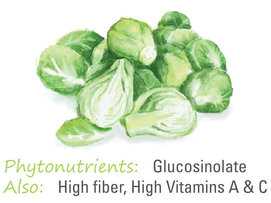 BRUSSELS SPROUTS
LIKE ​LITTLE SPROUTS
Oh, baby! A new study, touted by the Linus Pauling Institute, indicates that the chemicals in nutritious Brussels sprouts could play a role in an infant's health before he or she is even born. How? By providing the fetus with https://lpi.oregonstate.edu/research/cpi/cancer-chemoprotection-fetus-and-infant that could help guard against cancer later ​in life.