Red tomatoes -- Scientists test new
crop ​of findings
What's somewhat round and green, and red all over? Sounds like a riddle, but tomatoes are really all of those things. The red color comes from lycopene, a naturally occurring carotenoid antioxidant that scientists continue to study for its potential ​health benefits.

The seeds that have been planted regarding possible advantages of lycopene consumption in tomatoes has gained international attention. Researchers from Sweden to Australia are finding possible links that are difficult to ignore. Discover for yourself why they suggest: You should eat more tomatoes.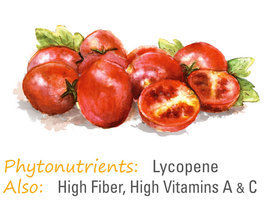 Ohio State researchers are investigating how tomatoes can alter the health of mice, especially regarding their exposure to UV light. And even for a mouse, that's no ​small feat.