Eat livelier with dried red
bell ​pepper strips
Another Phyto Active Foods™ original, dehydrated red bell pepper strips liven up your taste buds and energize your body. Free of any added ingredients and specially dried to preserve the nutrients, as well as the natural flavor, color and texture, these healthy snack strips come to you straight from quality American farms. Go ahead...try the veggie bit that satisfies health professionals and hungry ​appetites alike.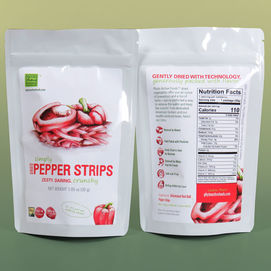 Pepper Strips
for ​Every Trip
Pack lightly – and healthily – with dehydrated red bell pepper strips. The compact snack packages fit perfectly into your gym bag, purse, backpack and more. Strong and sturdy, the resealable packet secures your veggie treats and their fresh, crunchy flavor. Why not order a pack for each of your portable carry bags…shipping is free when your buy a dozen ​or more!


#PE Dried Red
Bell ​Pepper ​Strips
1.05 oz. ​Package $3.19
Qty: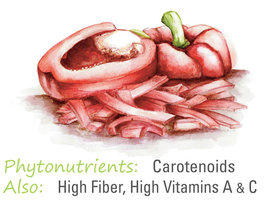 Take the High Road to
Vitamins ​& Fiber
Red bell peppers serve as a robust power plant of beneficial vitamins, antioxidants and phytonutrients such as carotenoids that assist our immune systems. Low in calories, the peppers are high in vitamins A and C, potassium and fiber. They're also an excellent source of folic acid, which helps to prevent DNA changes that could lead to cancer. When it comes to your better health, red bell peppers earn "high" marks ​every time.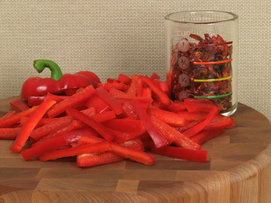 Crunching the Numbers
Get more than a mere mouthful in our handy snack packs, each containing about 1 ounce (30 grams) of dehydrated red bell pepper strips. That measures up to about 1 cup of ​dried product.

But that's only half the story because this amount of dried red bell pepper strips equals about 3 cups of fresh bell pepper. So add 'em up and eat 'em up – every pack is filled with flavor that ​never wavers!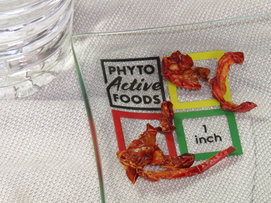 Stretch Out
Your ​Snacking Pleasure
With flavor this rich and zesty it's easy to lose count, but you can expect hundreds of nutritious red bell pepper strips in each resealable pack. And take a look at the measurement graph…these are nice, generous strips that guarantee plenty of satisfied snacking, not to mention more than enough healthy nourishment to keep you energized all ​day long!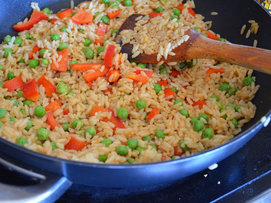 Spice Up
Your ​Favorite Dishes
Red bell peppers spice up many otherwise mundane dishes. Mix them with corn and onions to spruce up a summer salad, slip them into a vegetable quiche or grill them with rosemary and garlic to create a scrumptious pita dip. Here's a recipe with rice, peas and carrots that we ​especially like.

▫ 3 tbsp food grade shea butter or ​vegetable oil
▫ 1 large red ​onion, chopped
▫ 1 red bell pepper, ​seeded, chopped
▫ ½ ​cup peas
▫ 2⅓ cups long-grain ​white rice
▫ 1 tsp ​chili powder
▫ 3¾ cups low-salt ​chicken broth
▫ ½ cup chopped ​fresh cilantro

Melt the butter in a large pot, over medium heat. Add onion, pepper and peas, then sauté for 12 minutes. Next, add rice, cumin and chili powder, then stir for one minute. Add broth and bring it to a boil, then cover the pot and lower your heat to medium low and simmer for about 25 minutes until the rice is tender and the broth reduced. Season with salt and pepper, then sprinkle with cilantro and ​bon appetit!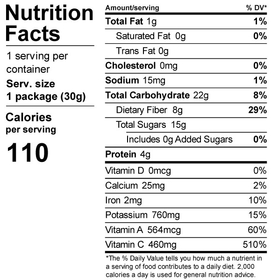 Good News
About ​Good Nutrition
Look to our nutrition panel for insightful facts about the healthy quality of our products, like red bell pepper strips. Did you know they're high in fiber, potassium and Vitamin A? And are you ready for this? They give you a whopping 5 times your daily requirement of Vitamin C! That's great news for your immune system and even your ability to control your ​blood pressure.