Dehydrated Broccoli Florets for Your
Next ​Crunch Break
Phyto Active Foods™ dehydrated broccoli includes no added ingredients, so you can enjoy real broccoli health benefits every time you need a snack break. You won't find stalks or stems here...just delicious florets that satisfy your cravings. Sourced from American farmers and quality assured by our team of health professionals, these tasty broccoli buds have been specially dried to maintain their natural flavor and ​delightful crunch.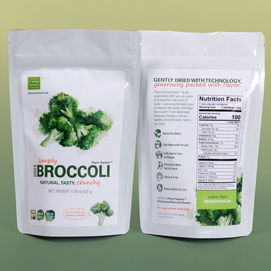 Dehydrated
Broccoli ​That's Good-To-Go
Take your dried broccoli with you when you travel...just drop these handy snack packs in your backpack, laptop bag, gym bag or even your luggage. The sturdy, highly durable packet features a secure, resealable opening that maintains the tasty crunch to the last bite. Speaking of traveling well, when you order 12 packs or more, we ship ​for free!


#BR
Gently ​Dried ​Broccoli
1.05 oz. ​Package $2.59
Qty: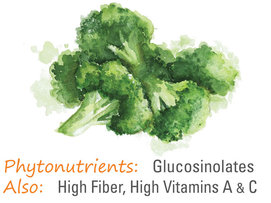 Phytonutrients
Love ​Broccoli Too
Broccoli contains a class of phytonutrients called glucosinolates. When broccoli's glucosinolates are digested, sulphoraphane is produced. Medical researchers are evaluating the potential benefits ​of sulphoraphane.

We've managed to preserve the bulk of broccoli's phytonutrients in our dehydrated broccoli florets, enabling you to pursue better health while you're enjoying ​better taste.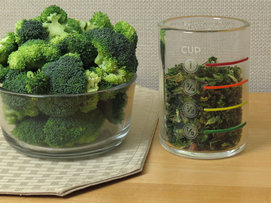 See How Our
Broccoli ​Stacks Up
Each of our convenient snack packs contains about 1 ounce (30 grams) of dried broccoli. That's equal to about 3/4 cup of ​dried product.

And guess what? This volume of dried broccoli adds up to approximately four cups of fresh broccoli. That's a healthy portion, by any measure. So go ahead...open a pack and get a whole bunch ​of crunch!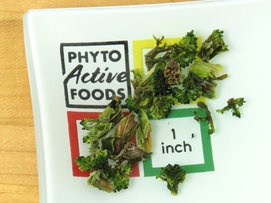 Take a closer look at our dried broccoli florets. It's easy to see that these are nutritious flower tops, packed with flavor and robust energy to jump-start the rest of ​your day.

We opt for rich floret pieces, with minimum stem. And we avoid tiny "fines" in our product. Other suppliers often provide broccoli fragments and tidbits much too small for eating as a standalone snack food. But ours serve as a welcome, satisfying treat at ​any time.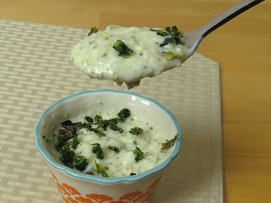 Good by Itself - Or
Dress ​It Up
Broccoli buds are great for your taste buds! Add broccoli florets to scrambled eggs or a vegetarian omelet. Create a tantalizing soup or even use broccoli to perk up your mac and cheese. Make it extra simple, if you prefer, and serve broccoli raw with a bowl of your favorite dip. Broccoli in almost any form helps keep you healthy ​and happy.

Try this quick low-sodium broccoli ​dip recipe:

▫ 1 snack pack Phyto Active Foods dried ​broccoli florets
▫ 1 cup ​Greek yogurt
▫ 1/4 avocado, cut into ​small pieces
▫ 1 teaspoon dried ​onion flakes
▫ 1/2 teaspoon salt-free ​garlic powder
▫ 1/2 teaspoon ​dried dill
▫ 1 pinch freshly ground ​black pepper

Lightly blend all of the ingredients in a food processor, except the broccoli. When blended, stir in one pack of broccoli, transfer into a serving bowl ​and enjoy!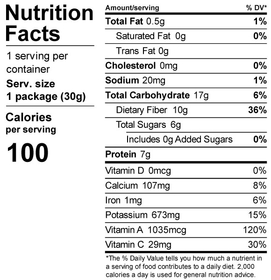 High Fives for High Fiber, Vitamins
A ​& C
Our Phyto Active Foods dried broccoli nutrition label says it all. When you pop a broccoli bud into your mouth, you're taking the high road for fiber and vitamins A and C nutrition. Each broccoli snack pack contains 36% of the recommended daily value for dietary fiber, 120% of vitamin A and 30% of vitamin C. It's also a good source of potassium. What's more, broccoli is cholesterol-free and low in fat, saturated fat ​and sodium.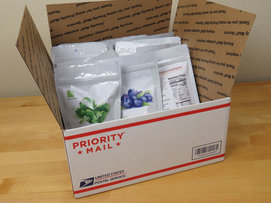 Get healthy savings too, with our "cheaper by the dozen" shipping policy. When you purchase 12 or more of our fruit or vegetable snack items, priority mail shipping is free. And any order of fewer items is just $5. Call for special bulk rates on orders of 50 ​or more.

Whatever amount you request, if you're not completely satisfied, we'll cheerfully refund your entire purchase amount. Simply call or send us a little note explaining what part of our product didn't measure up, and we'll send you a mailing label for an easy, hassle-free product return. And we'll work even harder to regain ​your trust.
#BR
Gently ​Dried ​Broccoli
1.05 oz. ​Package $2.59
Qty: