Veg Out in Style with
Dehydrated ​Brussels Sprouts
Fresh and new from Phyto Active Foods™, dehydrated Brussels sprouts take you on a flavor journey that powers your body and sates your appetite. No extra sugars or additives of any kind here – just delicious, natural farm-to-mouth goodness. Enjoy the hearty flavor and crunchy texture of these convenient vegetable snack treats from the quality growing fields ​of America.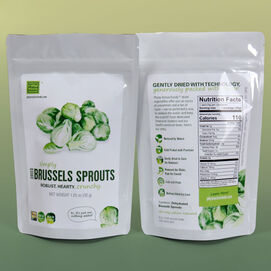 Dried Brussels Sprouts -
The ​Portable Edibles
Dried Brussels sprouts are a go-anywhere, eat-anytime snack food. Just slip the secure, resealable packs into any of your portable gear, from laptops to backpacks and lunch bags. And remember…we ship for free on orders of 12 packs or more. So it's always easy to put a crunch in your mouth and a bounce in ​your step.


#BU Gently
Dried ​Brussels ​Sprouts
1.05 oz. ​Package $2.59
Qty: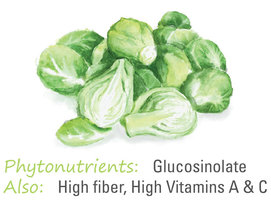 Encouraging News ​About Nutrition
Brussels sprouts pack a lot of nutritional punch, with high marks in fiber and vitamins C and K. They're also noted for their antioxidant content and have been studied for possible links to maintaining healthy blood sugar levels and reducing inflammation, a major factor in cardiovascular disease. They even contain ALA Omega-3 fatty acids, thought to aid in healthy heart and brain function. It's easy to see why so many health professionals have taken an interest in this robust, ​leafy vegetable.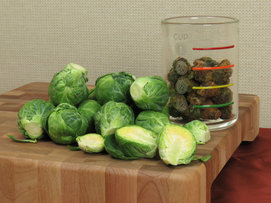 Our Servings Deserve a Tip
of ​the Cup
Phyto Active Foods™ Brussels sprouts stack up well, when it comes to filling you up. We pack about 30 grams of tasty vegetable into every resealable pouch. That equals nearly 1 cup of dried product and approximately 8 healthy ounces of fresh produce. The numbers speak for themselves, and your taste buds will give a shout-out, too, because these sprouts are wholly nutritious and ​fully delicious.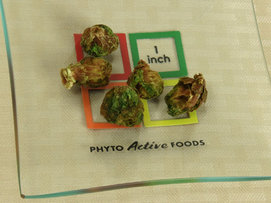 Oversized Flavor
in ​Every Bite
Our gently dried Brussels sprouts are much more than just bits and pieces. They're whole bites, loaded with important nutrients, including high levels of vitamin C and vitamin K. Eat 'em like candy, but they're much better for you…providing the essential minerals and dietary fiber so crucial for your body's ​optimum functionality.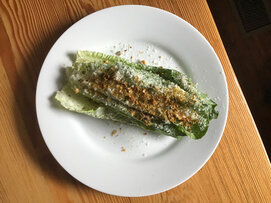 Top It Off
with ​Brussels ​"Sproutons"
It's hard to beat the fresh goodness of a crisp Caesar salad. And if you follow a few nutritious preparation guidelines, you can make it as healthy as it is tasty. For instance, here's a great recipe using a homemade low-fat dressing and Brussels "sproutons" instead of traditional bread croutons. Phyto Active Foods dried Brussels sprouts offer the just the right texture and crunchiness to accent this timeless favorite. Here's all ​you need:

1 head ​Romaine lettuce
½ cup dried Phyto Active Foods ​Brussels sprouts
¾ cup non-fat plain ​Greek yogurt
3 tbsp extra-virgin ​olive oil
3 tbsp freshly squeezed ​lemon juice
1½ tsp ​anchovy paste
1½ tsp ​Dijon mustard
½ cup freshly grated ​Parmesan cheese
1 garlic clove

Put the yogurt, Parmesan, olive oil, lemon juice, anchovy paste, mustard and garlic in a blender or food processor and puree until smooth. When finished, toss the Romaine, Brussels sprout croutons and newly made Caesar dressing until nicely mixed. Top with additional Parmesan cheese, if desired, and ​Hail Caesar!

See more Dried Brussels Sprouts Recipes.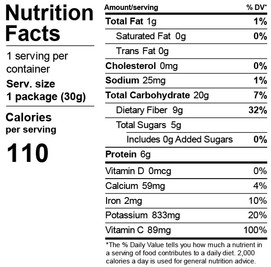 You don't have to look much farther than the nutrition label to see that our Phyto Active Foods™ dried Brussels sprouts deliver solid nutrition in every bite. High in vitamins A and C, as well as dietary fiber and cancer-fighting glucosinolates, they're also a good source of potassium, which has been studied for its potential to lower blood pressure and help preserve muscle mass. Low in fat and sodium, Brussels sprouts are considered to be one of the ​powerful superfoods.
#BU Gently
Dried ​Brussels ​Sprouts
1.05 oz. ​Package $2.59
Qty: