Dried Blueberries That Really
Pack ​a Crunch
Dried blueberries, from Phyto Active Foods, bring you real taste that's free of any extra ingredients, so you get maximum vitamins and minerals in every bite. We've dried our delicious fruit product evenly, from the core to the outside, creating a truly crunchy crunch. These are American farm-grown blueberries, quality-tested by our own health-centered team through every stage of preparation. The result? A perfect nutrient delivery system, packed with natural flavor, for your ​on-the-go lifestyle.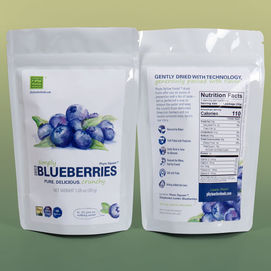 Our Dehydrated
Blueberries ​Travel Light
Off to work, the gym or a morning jog? Taking your dried blueberries with you is as easy as a walk in the park. Just slip the compact, resealable bag into your backpack, your gym bag or your laptop case and keep flavor and nutrients by your side, wherever you go! Best of all, we've selected packaging that retains the berries' ​appealing crunch.


#BL Gently Dried
Jumbo ​Whole ​Blueberries
1.05 oz. ​Package $2.59
Qty: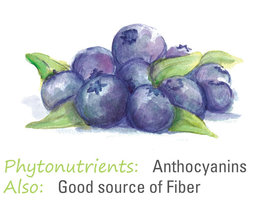 Fresh Flavor
and ​Phyto­nutrients ​Too!
Low in calories, but high in nutrients, blueberries contain a family of polyphenol antioxidants known as flavonoids. This includes anthocyanins, water-soluble pigments that help give the berry its color. Anti-oxidants such as anthocyanins are being studied by researchers for possible links to a wide range of important ​health benefits.

Through our drying process, we've been able to preserve most of these popular phytonutrients in our dehydrated blueberries. This allows you to pursue a more healthy lifestyle while also enjoying their ​delicious flavor.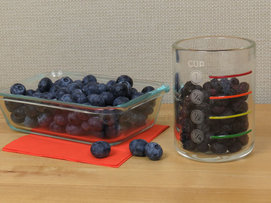 A Healthy Meal That's
a ​Great Deal
You'll find about 1 ounce (30 grams) of whole dried blueberries in each handy pack. That measures approximately 3/4 cup of dried product. But there's more…literally…because that equals roughly 1 1/4 cups of fresh blueberries. Talk about a healthy portion! So get on track for the perfect snack, with Phyto Active Foods dried blueberries, delicious to the ​last crunch.
Whole Berries
in ​Every Bite
Our delicious dried blueberries amount to much more than just a quick snack. Enjoy about 122 nutritious berries in every pack – enough to not only quell your hunger, but also provide energy and nourishment to help you through the day. As you can see, these aren't just tiny bits and pieces; these are whole blueberries filled with beneficial phytonutrients. So snack away, with superfuel for your ​body's engine.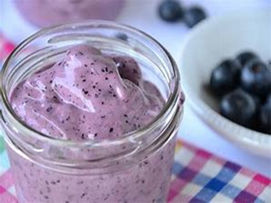 Give Your Foods
Some ​Extra Zest
Blueberries add creativity and color, without the extra calories, to your food dishes. They're great in homemade cookies and breads, for topping your oatmeal or salad, flavoring a baking sauce or introducing healthier desserts like blueberry tacos or ​ice pops.

They can also star in your own blueberry smoothie production. Here's all ​you need:

▫ 1 pack dried blueberries - Phyto Active Foods, ​of course!
▫ ½ cup vanilla ​Greek yogurt
▫ ½ cup ​rolled oats
▫ 1 cup milk (non-fat or 1% ​is fine)
▫ 1 tablespoon ​agave nectar
▫ For an extra health kick, you can also add flax seeds, protein powder or ​chia seeds.

Place all of the ingredients into a blender and mix until fully combined, then pour into a glass for a ​refreshing treat.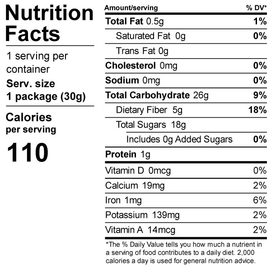 Crunch These
Numbers ​on Blueberries
Check out our Phyto Active Foods nutrition label and you'll discover that blueberries, a native North American berry, pop with flavor and nutrition. They have been touted as an excellent source for Vitamin A and provide nearly 20% of your recommended daily fiber. And that's just a fraction of their ​healthy appeal.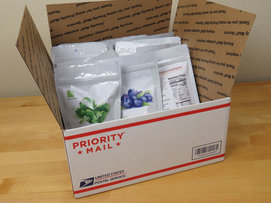 You can never get too much of a good thing, with our "cheaper by the dozen" shipping offer. Order 12 or more Phyto Active Foods fruit or vegetable snack items, and we'll ship them by priority mail for free. Order fewer, and the cost is just $5. We also invite you to call for special bulk rates on orders of 50 ​or more.

We take special pride in every order we ship, so if you're not happy for any reason, just call us or send us a brief note telling us where we fell short. We'll promptly send you a mailing label to return our product, and we'll issue a full refund. Consider it our way of saying we need to try ​even harder.
#BL Gently Dried
Jumbo ​Whole ​Blueberries
1.05 oz. ​Package $2.59
Qty: