DRIED GRAPE TOMATO HALVES FOR THE
CRUNCH ​YOU CRAVE
Enjoy all the healthy, crunchy goodness of Phyto Active Foods™ dehydrated grape tomato halves, the "what you see is what you get" snack food with no added ingredients. Each delicious tomato half comes to you just as nature intended, fresh from established American farms. Thanks to our health-conscious quality control team, each grape tomato bite offers full-bodied taste with every ​exhilarating crunch.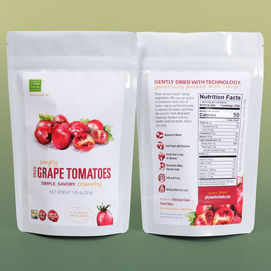 Dehydrated grape tomato halves are great traveling companions. The convenient plastic package slides easily into your backpack, your gym bag or even a carry-on for those all-too-common foodless flights. Because the sturdy pack is resealable, your baggage is never messy and your tomatoes always remain fresh. So munch and crunch whenever the spirit ​moves you!


#TO Gently Dried
Grape ​Tomato ​Halves
1.05 oz. ​Package $3.49
Qty: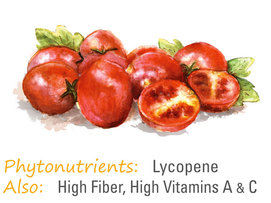 Fill Your
Day ​with Phytonutrients
Grape tomatoes provide a variety of important vitamins and phytonutrients that nourish and assist in your body's overall health. Rich in fiber and potassium, they also contain Vitamins A and C. Grape tomatoes provide the body with lycopene, a red carotenoid pigment, which has been the subject of significant research studies into its potential link to a variety of health benefits. These handy fruit halves taste great too, so put their crunch to the ​test today.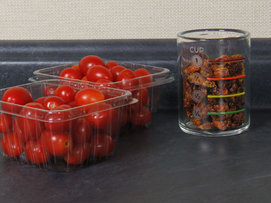 One Tomato ​After Another
Each of our resealable snack packs contains approximately 1 ounce (30 grams) of dehydrated grape tomatoes. That equals about 2¾ cups of fresh product, or roughly 112 tomato halves in every pack! That's a lot of delicious nutrients, conscientiously retained through our gentle drying process. And remember – nothing's been added but ​the crunch!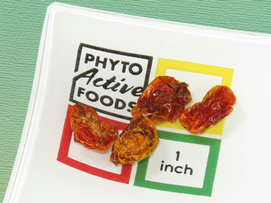 Get Your Share
of ​Mighty Bites
When you study our dried grape tomatoes, you discover not simple fragments or pieces, but honest-to-goodness tomato halves. We've carefully culled the best tomatoes of the bunch and split them into easy-to-crunch halves, for your snacking enjoyment. As you can see, these are substantial bites, filled with natural goodness and flavor, straight from America's ​quality-run farms.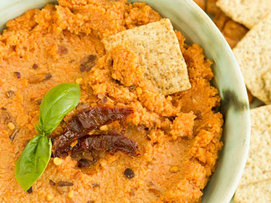 The versatility of tomatoes is virtually limitless. You can add them to your various sauces and pastas, use them as the base for zesty salsas or to spice up your hummus – even toss them into a BLT. And how about this…combine the time-honored Mediterranean flavors of grape tomatoes, olives and feta cheese into a classic Greek pasta salad. Here's all ​you need:

▫ 2 cups ​orzo pasta
▫ 1 tbsp. ​olive oil
▫ 1/2 pack dehydrated ​grape tomatoes
▫ ​1 lemon
▫ 1 cup crumbled ​feta cheese
▫ 1 cup pitted ​kalamata olives
▫ 1 cup fresh ​mint leaves
▫ 1/4 tsp. coarsely ground ​black pepper

Boil a large covered saucepot of salted water, then add orzo and cook in typical pasta fashion. At the same time, grate 1 teaspoon peel from the lemon and squeeze 1 tablespoon juice and set aside. Add the olive oil to a 12-inch skillet and heat on medium until hot. When ready, drain the orzo, keeping ¼ cup of the orzo cooking water. Add the orzo and cooking water to the skillet, stir in the lemon peel and juice, along with feta, olives, mint and ¼ teaspoon coarsely ground black pepper. At the end, sprinkle the dried tomatoes on top and stir. Enjoy the ​flavor feast!
When we select the finest grape tomatoes from our suppliers in the local farms and fields, nothing gets lost in the transfer to our airtight, resealable packages. Just look at the nutrition label and you'll find that all of the crucial phytonutrients are still there. That includes 25% of your daily recommended potassium and Vitamin A, as well as 21% of your daily dietary fiber. And that's just a percentage of all the other great nutrients you'll find inside. Enjoy the great taste of our grape tomato halves, a low-sodium, cholesterol-free treat that delivers a healthy punch with ​every crunch.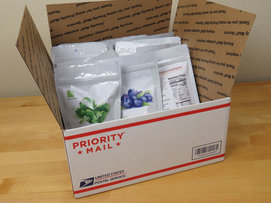 It really is "cheaper by the dozen" when you stock up on fruits and veggies from Phyto Active Foods! Order 12 or more of our snack packs, and we'll ship by priority mail for FREE. When ordering fewer packs, our economical charge is $5. And for orders of 50 packs or more, call for our generous ​bulk rates.

If you're not completely satisfied with your order when it arrives, we'll promptly refund the price of your entire purchase. Just tell us your reason so we can continually improve our products and service, and we'll send you a mailing label for a quick, ​easy return..
#TO Gently Dried
Grape ​Tomato ​Halves
1.05 oz. ​Package $3.49
Qty: