Put Dried Beets Recipes on Your Cooking
"To ​Do" List
Take a break from the ordinary and sample a few healthy Dried Beets Recipes that are simple to prepare and easy to like. That's the great thing about Phyto Active Foods dehydrated beets. They can be enjoyed as a nutritious snack, or as part of a fine meal for larger appetites. We invite you to try one of these dried beets recipes, inspired by a local ​gourmet chef.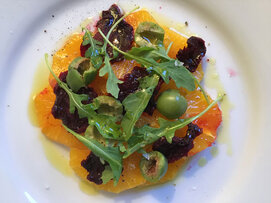 Orange &
Dried ​beets Salad
For this appealing recipe, dried beets get a fresh new twist. Just imagine how deliciously these different fruit and veggie flavors work together. This is one dried beets recipe that you'll always want to keep close at hand, whether entertaining or dining solo. Go ​ahead...try it!

2 navel oranges
5 large Phyto Active Foods dried ​beet pieces
5 castelvetrano olives, pitted and roughly split ​in half
Arugula
Extra virgin ​olive oil
Maldon salt
Fresh ground ​black pepper

▫ Trim peel and pith from the oranges and slice into rounds about 1/4 inch thick. Set aside in ​a bowl.
▫ Decant the accumulated juices from the sliced oranges into a ​small bowl.
▫ Place the dried beets in the juice to soften for a few minutes. If you need more liquid, add a ​little water.
▫ Arrange the orange rounds in a circle on a plate. Place the softened beets atop ​the oranges.
▫ Scatter with the split olives and ​baby arugula.
▫ Drizzle with extra virgin ​olive oil.
▫ Season with a pinch of Maldon salt and freshly ​ground pepper.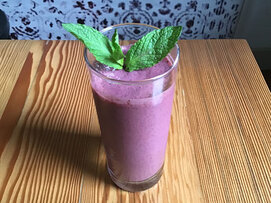 Put a Garden
in ​Your Glass
Few things are more refreshing than a cool, nutrient-rich smoothie, as a morning energy booster or afternoon taste treat. This healthy drink is made even better with Phyto Active Foods dried beet morsels and dried whole blueberries. The natural texture and flavor combine for a uniquely satisfying experience. Just blend these ingredients, then ​sip…or slurp…away!

Beet-Blueberry Smoothie
⅓ cup ​dried blueberries
1 tbsp dried ​beet morsels
1½ cups plain kefir (low-fat or ​full fat)
½ ​banana, frozen

Place all ingredients in a Vita-mix type blender and blend until ​creamy smooth.
And the beet goes on…and on…as one of the most robust ingredients for healthy, nutritional eating. Rich in Vitamin C, folate and more, it also adds a nice touch of flavor and hint of color to any food dish. Experiment with some dried beet recipes of your own and re-energize your ​dinner table.

Click to see all of our Dehyrated Vegetable Recipes.