Dried Blueberry Recipes
Make ​Nutritious Delicious
One of the most creative ways to enliven your palate and nourish your body is through dried blueberry recipes, using Phyto Active Foods™ dehydrated blueberries. With a set of instructions and a little bit of imagination, you can craft anything from breakfast energizers to elegant desserts. Here are several of ​our favorites.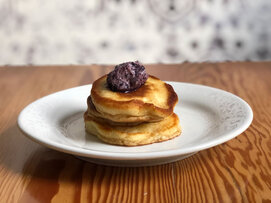 Dried Blueberry Butter
If you like butter, you'll love blueberry butter, prepared with Phyto Active Foods dried blueberries. One of the easiest dehydrated blueberry recipes to make, it's ready in just minutes. See how simple ​this is:

1 ounce room temperature ​unsalted butter
20 Phyto Active Foods ​dried blueberries

▫ Lightly crush blueberries with mortar and pestle. You should have a mixture of dust ​and rubble.
▫ Fold into the softened butter until ​well incorporated.
▫ Slather on warm cornbread or lemon ​ricotta pancakes
Pavlova with lemon curd
& ​dried blueberries
Here's an instance where sweet and smart go hand-in-hand, with ingredients done in moderation. This Phyto Active Foods Dried Blueberry recipe produces a dessert that's high in phytonutrients. And it tastes ​great, too!

6 meringue bases
½ cup strained, freshly squeezed ​lemon juice
Zest of ​two lemons
½ cup granulated ​white sugar
3 oz. unsalted butter, cut into ​small cubes
3 large eggs
Pinch of salt
1 cup ​heavy cream
2 tbsp. ​confectioner's sugar
Phyto Active Foods ​dried blueberries

▫ Whip cream with confectioner's sugar until soft peak. Set aside in ​the refrigerator.
▫ Combine lemon juice, zest, sugar, salt and eggs in a heavy-bottomed ​sauce pan.
▫ Whisk vigorously ​to combine.
▫ ​Add butter.
▫ Place over moderate heat and constantly whisk, scraping ​the bottom.
▫ Cook until curd begins to thicken, then remove ​from heat.
▫ Strain warm curd through a ​fine sieve.
▫ Let cool and then place in covered container in refrigerator to ​firm up.
▫ Place 2 tbsp. (or more) of cooled, lemon curd on ​meringue base.
▫ Place a layer of whipped cream on ​the curd.
▫ Top the whipped cream with as many dried blueberries ​as desired.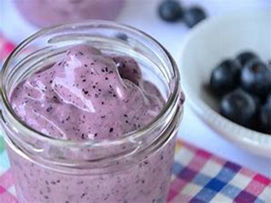 True Blue Goodness
Dried blueberries make ordinary dishes come alive with an added touch of wholesome fruit. They blend well in breads, cookies and even your breakfast oatmeal. Want just a dab of sweetness in your salad or your yogurt, without the extra calories? Let's hear it ​for blueberries!

You can even use dried blueberries in your own custom smoothie, like we ​did here!

1 pack dried blueberries - Phyto Active Foods, ​of course!
½ cup vanilla ​Greek yogurt
½ cup ​rolled oats
1 cup milk (non-fat or 1% ​is fine)
1 tablespoon ​agave nectar
For an extra health kick, you can also add flax seeds, protein powder or ​chia seeds.

▫ Place all of the ingredients into a blender and mix until ​fully combined.
▫ Pour into a glass for a ​refreshing treat.
These are just a few of the great dried blueberry recipes available to you. Why not experiment on your own - with a little help, of course, from Phyto ​Active Foods!

Click to see all of our Dehyrated Vegetable Recipes.