Dried Brussels Sprouts Recipes for
Healthy, ​Hearty Dining
Dried Brussels Sprouts Recipes are among those that have evolved dramatically since that time, years ago, when your mother told you to eat your vegetables. Now it's become a celebration, rather than an obligation. In fact, dehydrated Brussels sprouts add extra flavor and crunch to a variety of otherwise traditional offerings that now have a whole new look – and taste! See ​for yourself.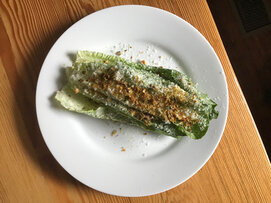 Top It Off
with ​Brussels ​"Sproutons"
It's hard to beat the fresh goodness of a crisp Caesar salad. And if you follow a few nutritious preparation guidelines, you can make it as healthy as it is tasty. For instance, here's a great recipe using a homemade low-fat dressing and Brussels "sproutons" instead of traditional bread croutons. Phyto Active Foods dried Brussels sprouts offer the just the right texture and crunchiness to accent this timeless favorite. Here's all ​you need:

1 head ​Romaine lettuce
½ cup dried Phyto Active Foods ​Brussels sprouts
¾ cup non-fat plain ​Greek yogurt
3 tbsp extra-virgin ​olive oil
3 tbsp freshly squeezed ​lemon juice
1½ tsp ​anchovy paste
1½ tsp ​Dijon mustard
½ cup freshly grated ​Parmesan cheese
1 garlic clove

Put the yogurt, Parmesan, olive oil, lemon juice, anchovy paste, mustard and garlic in a blender or food processor and puree until smooth. When finished, toss the Romaine, Brussels sprout croutons and newly made Caesar dressing until nicely mixed. Top with additional Parmesan cheese, if desired, and ​Hail Caesar!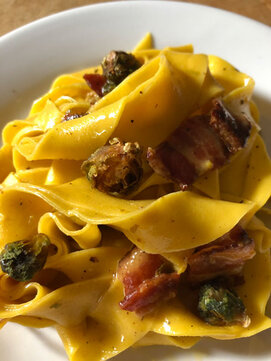 Pasta Carbonara with
Dried ​Brussels Sprouts
Give pasta a positive health spin by pairing your favorite noodle with dried Phyto Active Foods Brussels sprouts. That extra little crunch and green vegetable flavor completes your dish with true aplomb. From spaghetti and linguini, to fettuccini, angel hair and more, create a Carbonara dish with its own unique taste ​and personality.

5 oz. of your favorite ​long pasta
2 egg yolks
2 slices bacon
Grated Pecorino Romano ​(or Parmigiano)
Freshly ground ​black pepper
Kosher salt
10 Phyto Active dried ​Brussels sprouts

▫ Place pasta in large pot of boiling, salted water and cook according to instructions ​on packet.
▫ While pasta cooks, cut the bacon into half-inch pieces. Place in skillet over ​moderate heat.
▫ Cook bacon until most of the fat is rendered and bacon is crispy. Leave the fat and crispy bacon in ​the skillet.
▫ Put egg yolks, Pecorino and 4 grinds of fresh black pepper in a bowl large ​enough to
accommodate the pasta.
▫ Add 3 tbsp. of the boiling, salted pasta water to the yolk and cheese mixture. ​Stir to
incorporate.
▫ Once the pasta is cooked to desired "doneness", transfer the pasta to the warm skillet with the bacon and fat. Reserve the hot ​pasta water.
▫ Swirl pasta in the bacon skillet to coat and then transfer pasta and bacon to the egg mixture.
▫ Swirl pasta in the ​egg mixture.
▫ Add ​Brussels sprouts.
▫ Transfer back to the warm skillet and toss. If the sauce seems too tight, you can add a couple tbsp. of the hot pasta water to loosen. The residual warmth of the skillet should slightly thicken the sauce. Do not put the egg mixture into a hot pan because the eggs will ​become scrambled.
▫ If the pan is cold, place over a low flame just until the sauce begins to thicken, then coat ​the pasta.
▫ Place in bowl and finish with more ​grated Pecorino.
The rising popularity of Brussels sprouts has made the vegetable a superstar in gourmet circles. Dried Brussels sprouts, from Phyto Active Foods, open up a new wealth of opportunities for enjoying their flavor, texture and promising ​health benefits.

Click to see all of our Dehyrated Vegetable Recipes.