Dried Red Bell Pepper Recipes
for ​Bold Tastes
Dried Red Bell Pepper recipes bring out the best in zesty flavor, especially when you use Phyto Active Foods dehydrated red bell peppers. The nice thing about some of these nutritious recipes is that they require very little time or expertise to perfect. See how simple they ​can be: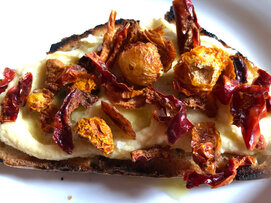 Dried Red Bell Pepper
Bruschetta ​with Hummus
Capture all of the piquant flavors of the Mediterranean, with this clever recipe featuring two Phyto Active Foods favorites…dried red bell peppers and dried grape ​tomato halves.

2 slices ​sourdough bread
Prepared hummus
Extra virgin ​olive oil
Pinch of ​Maldon salt
Phyto Active Foods dried red ​bell peppers
Phyto Active Foods dried grape ​tomato halves

▫ Grill slices of your favorite ​sourdough bread.
▫ Spread with a quality ​prepared hummus.
▫ Drizzle with extra virgin olive oil.
▫ Add a pinch of ​Maldon salt.
▫ Sprinkle liberally with Phyto Active Foods dried red bell peppers & ​grape tomatoes.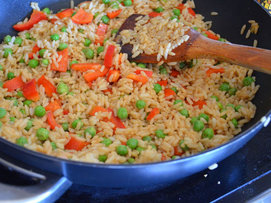 Red Bell
Peppers ​and Rice
Colorful, flavorful red bell peppers add vibrancy and appeal to any dish. And when you consider that they're high in vitamins A and C, potassium and fiber, you'd be wise to include them in a variety of creative recipes. They blend well with corn and onions for a yummy southwestern salad, or bake them into a light quiche for an added taste sensation. In this instance, we've made red bell peppers a key component of the special rice ​recipe below.

3 tbsp food grade shea butter or ​vegetable oil
1 large red ​onion, chopped
1 red bell pepper, ​seeded, chopped
½ ​cup peas
2⅓ cups long-grain ​white rice
1 tsp ​chili powder
3¾ cups low-salt ​chicken broth
½ cup chopped ​fresh cilantro

▫ Melt the butter in a large pot, over medium heat.
▫ Add onion, pepper and peas, then sauté for ​12 minutes.
▫ Add rice, cumin and chili powder, then stir for ​one minute.
▫ Mix in broth and bring it to ​a boil.
▫ Cover the pot and lower your heat to medium low and simmer for about 25 minutes until the rice is tender and the ​broth reduced.
▫ Season with salt and pepper, then sprinkle ​with cilantro.
Be daring, be innovative…experiment with some of your own dried red bell pepper recipes. It's one more interesting way to eat right and ​live well.

Click to see all of our Dehyrated Vegetable Recipes.