Dried Grape Tomato Recipes You Can
Save ​and Savor
You may already enjoy the nutritious flavor of Phyto Active Foods dehydrated grape tomato halves, but they're also great team players when combined in Dried Grape Tomato recipes. These zesty fruits pair well with many different ingredients, a few of which we present here, for your ​dining pleasure.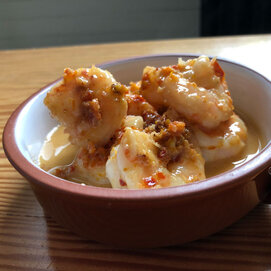 Tomato
butter ​with shrimp
When you want quick, and you want succulent, just call your Phyto Active Foods dried grape tomato halves into action. This dried tomato recipe is a buttery gem, perfect with friends or as a mellow dinner ​for two.

1 oz. room temperature ​salted butter
1 tbsp. ​olive oil
¼ cup dry Vermouth or dry ​white wine
8 raw, ​peeled shrimp
20 Phyto Active dried grape ​tomato halves

▫ Lightly crush the dried tomatoes in a mortar and pestle. You should have a mixture of dust ​and rubble.
▫ Fold into the softened butter until ​well incorporated.
▫ Salt and pepper the ​raw shrimp.
▫ Place a stainless steel skillet over ​moderate heat.
▫ Add olive oil to skillet ​to warm.
▫ Place shrimp ​in skillet.
▫ Turn once they start to turn pink on the skillet side. Cooking time will vary with the size of the shrimp, though it shouldn't take more than a minute ​or two.
▫ Remove skillet from the burner or turn off the flame and ​add vermouth/wine.
▫ Return to the burner to reduce the wine and finish cooking the shrimp. The larger the pan, the faster the liquid will evaporate. Add a little more wine or water if the shrimp need a little more ​cooking time.
▫ Lower the heat and add the ​tomato butter.
▫ Swirl in pan until shrimp ​are coated.
▫ Serve over pasta or with ​grilled bread.
Sourced from America's most respected farms, Phyto Active Foods dried grape tomato halves bring the crisp flavor of the fields to every recipe ​they complement.

Click to see all of our Dehyrated Vegetable Recipes.